Newsletter 003
This month's latest from Liquid Collective includes resources covering MEV and liquid staking, a market intelligence report on liquid staking, demand for activations, macro condition, and more.
A full month has passed since Ethereum's Shapella Upgrade enabling staking withdrawals and demand for participation in the staking ecosystem continues to grow.
That staking activation queue we told you about? It's been at 99.9% capacity for the last week, holding steadily for the last month, while the exit queue has dwindled from the high 90s to a mere 57% of exit queue capacity reached.
So, with stakers beginning to line up down the block, what's next for the ETH staking industry? Tune in to our virtual panel featuring leading experts from Alluvial, Rocket Pool, EigenLayer, Obol Network, and Coinbase, next Wednesday May 17th at 9 AM ET / 3 PM CT, on Liquid Collective's Twitter, Youtube, or LinkedIn pages. You can find the information to join here.
Read on for the latest news, data, and resources from Liquid Collective! Of course, if you don't feel like reading, Mr. X is just a click away.
---
Liquid Collective's Latest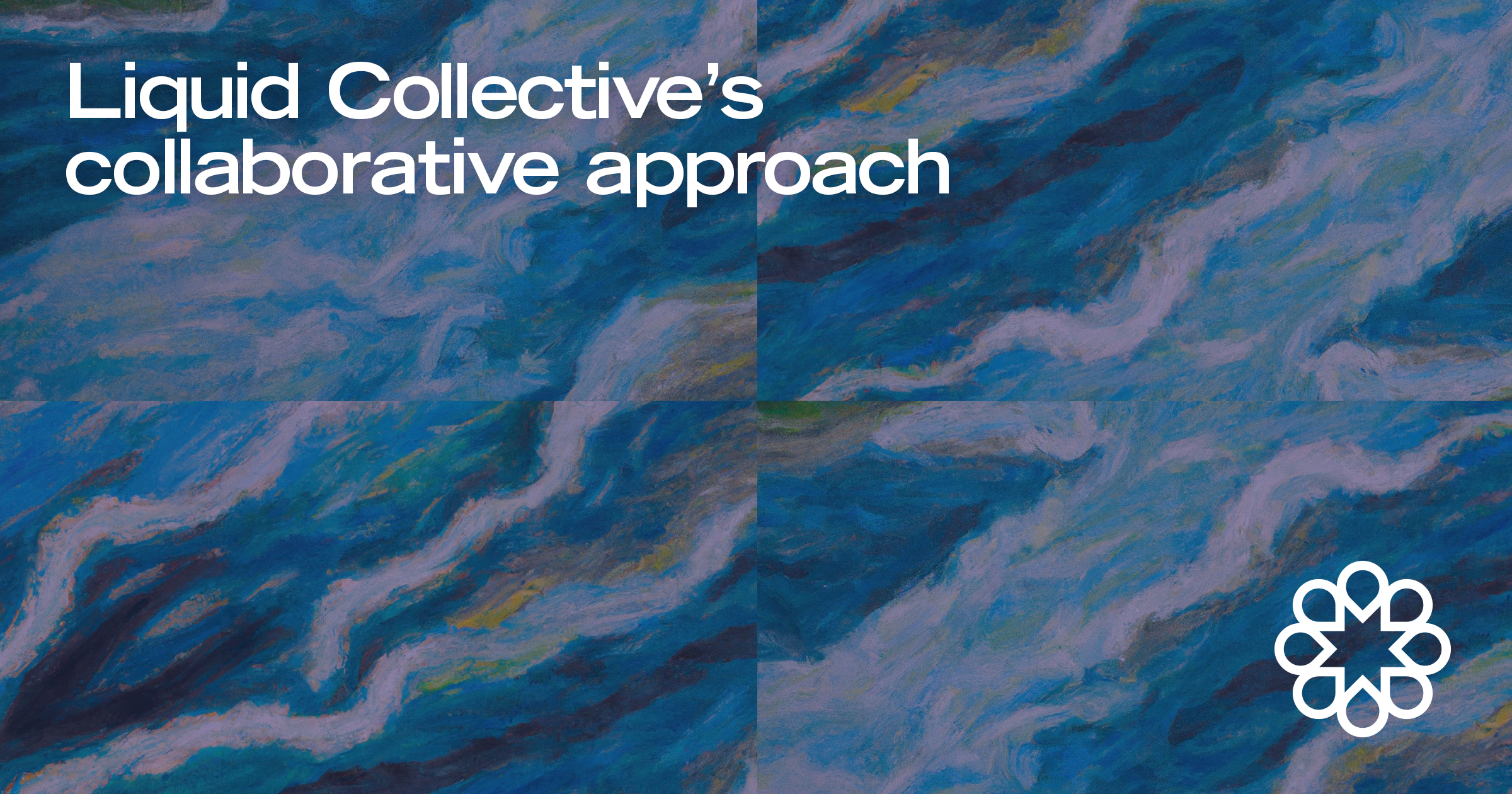 Exploring Liquid Collective's collaborative approach
By leveraging a collaborative approach that unites trusted industry experts, Liquid Collective can shine as a decentralized protocol that offers a resilient, composable, and innovative liquid staking solution with deep liquidity.
Collaboration can encourage innovation by tapping into diverse expertise and perspectives—driving the development of new use cases, efficient financial primitives, and integration of proven solutions. At the same time, increased composability is achieved through a collaboratively-built protocol that fosters interoperability across different platforms.
Learn more about the strategy and benefits of Liquid Collective's collaborative approach in our post.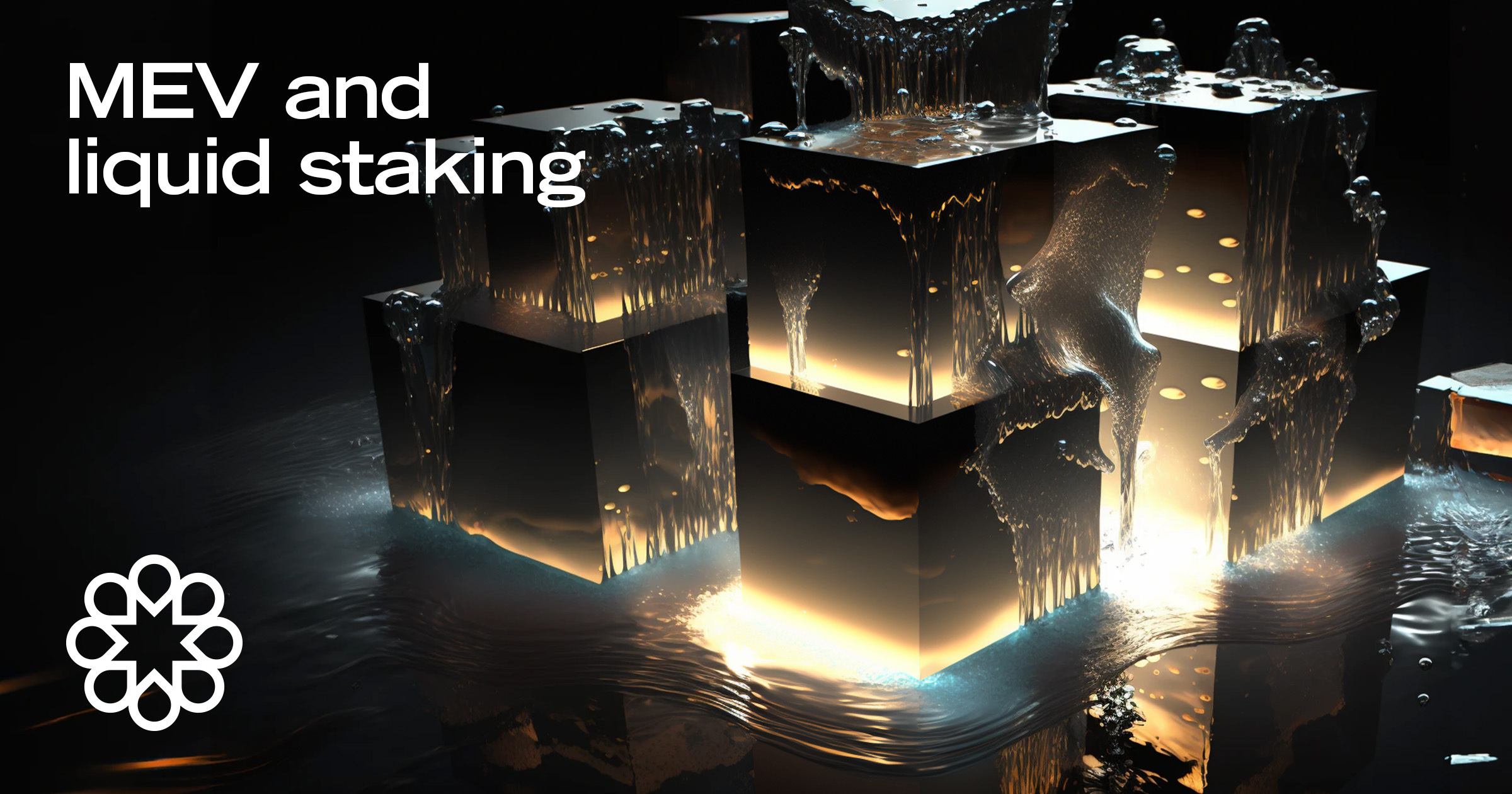 A refresher on MEV and liquid staking
Maximum extractable value (MEV) enables more efficient and decentralized block creation by dividing responsibilities among specialized agents. Running MEV middleware has become the industry standard, with over 88% of blocks on Ethereum proposed by validators running MEV-Boost.
Currently, Liquid Collective's node operators run MEV middleware, with any rewards captured automatically restaked by the protocol for optimal staking efficiency.
We cover the basics of MEV, how it relates to liquid staking protocols, and Liquid Collective's current MEV design here.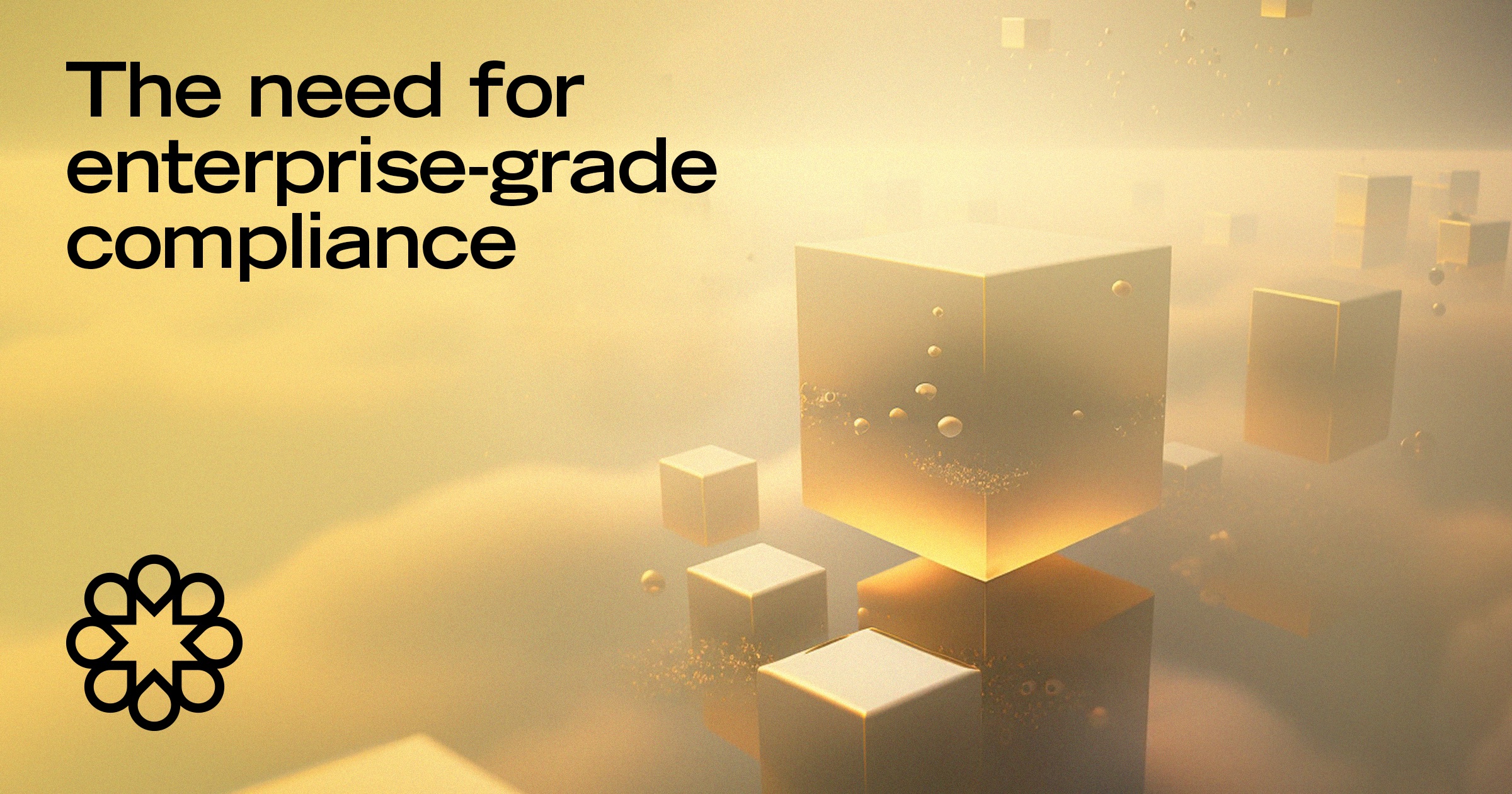 The need for enterprise-grade compliance
Growing adoption of crypto by institutional investors has long been cited as a meaningful channel for growth of the web3 ecosystem overall, and institutional adoption of staking is no exception. Despite the growing popularity of liquid staking several challenges have hindered institutions from participating in a widespread and meaningful way—including compliance, a concern for institutions which require a level of transparency and due diligence.
Read up on the "why" behind enterprise-grade compliance standards in our post.
---
Events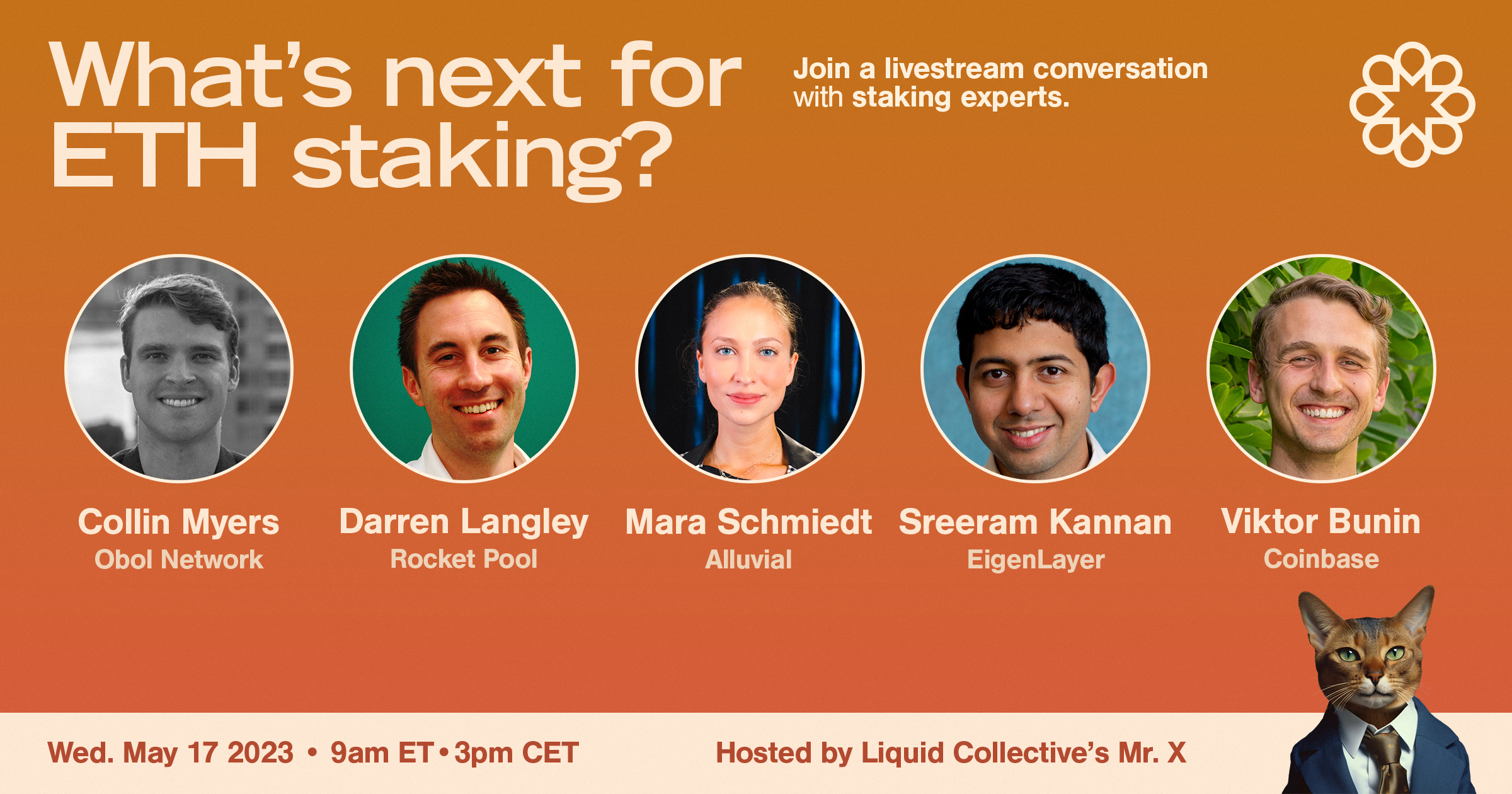 What's next for ETH staking?: May 17th 2023, at 9:00 AM ET / 3:00 PM CET
With demand to participate in ETH staking heating up post-Shapella, what's next for the sector? Join a livestream conversation with leading staking experts covering post-Shapella traction, liquid staking solutions, decentralized validator technology (DVT), restaking, and more.
Set a reminder to join today, or, tune in live on Wednesday on Liquid Collective's Twitter, Youtube, or LinkedIn pages. The information to join is here.
---
News from the Collective & Ecosystem Updates
---
Liquid Collective by the Numbers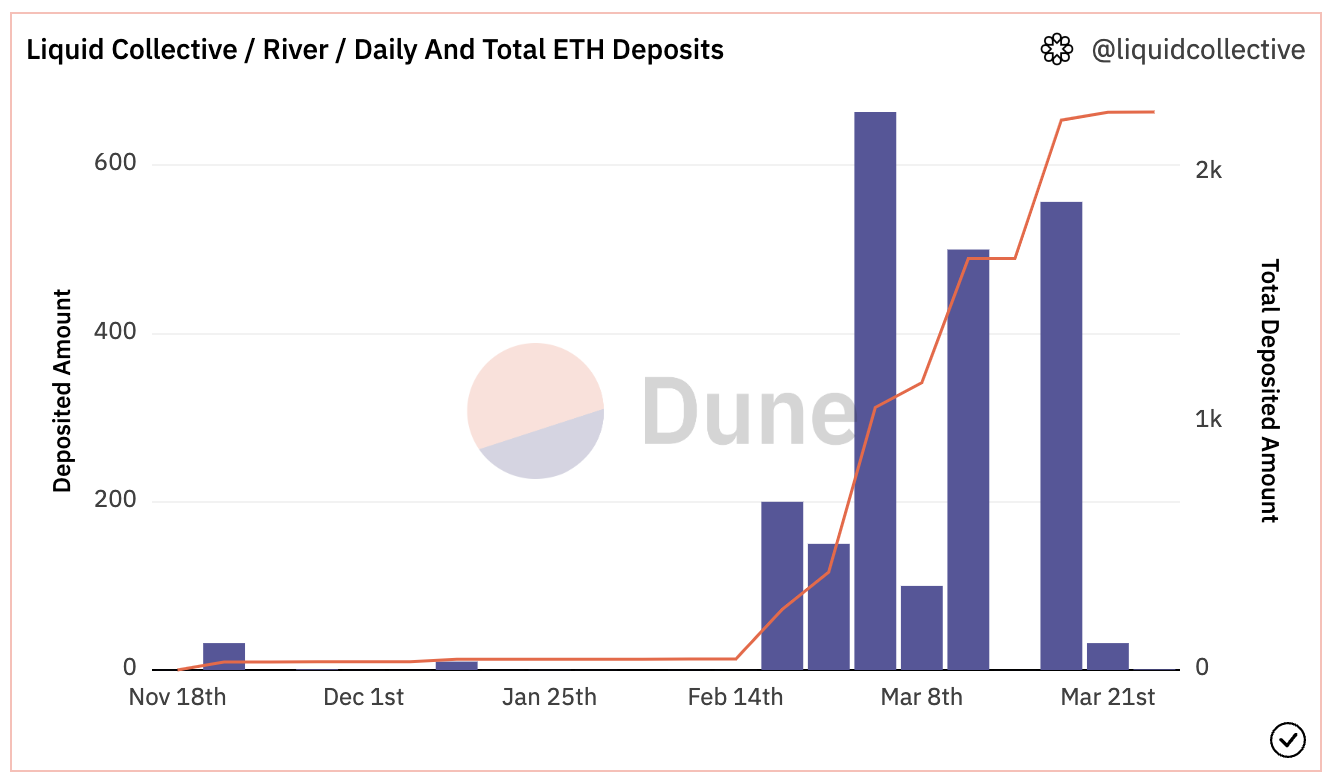 Total Deposited ETH: 2,247.47 ETH
LsETH Conversion Rate: 1 LsETH = 1.01485 ETH
Total Reported Validator Balance Sum: 2,254.79 ETH
Total Reported Validator Count: 70 validators
All data is accurate as of May 12, 2023. View real-time onchain data here on Dune.
Catching up with Mr.X