Liquid Collective Litepaper
An overview of the growth of liquid staking, Liquid Collective protocol's features, components, architecture, token model, risks, and more.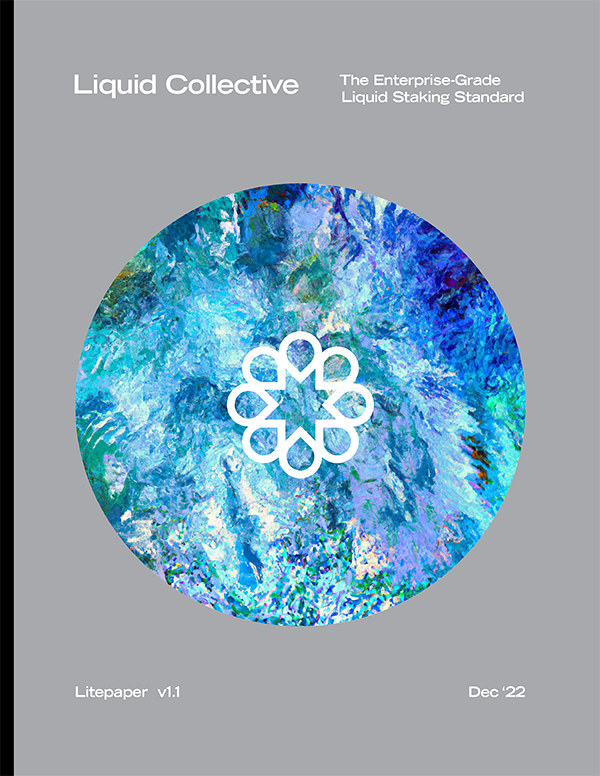 Liquid Collective Litepaper
Learn about the growth of liquid staking, Liquid Collective, the protocol's features and more in our comprehensive Litepaper.
Download PDF · 2.1 MB
Executive Summary
Background
Demand for liquid staking is growing rapidly and institutional interest has emerged. There is a need for standardization and an opportunity to build the enterprise-grade liquid staking standard for the entire web3 ecosystem.
Problem
Liquid staking is a nascent technology with the potential to disrupt traditional staking businesses. Current liquid staking protocols are not focused on building a product suitable for security and compliance-conscious enterprises and institutions.
Solution
Liquid Collective is a protocol developed in collaboration with a diverse group of industry leaders to meet the need for an enterprise-grade liquid staking standard that can be widely adopted, increasing liquidity and composability for the web3 economy.
"With Liquid Collective, token holders gain seamless access to enterprise-grade liquid staking. This effort can only be accomplished through true collaboration. We're proud to be working with some of the best teams in web3 to launch Liquid Collective."
— Matt Leisinger, CEO & Co-Founder of Alluvial
Litepaper Contents
The Growth of Staking & Liquid Staking
Liquid Collective's Guiding Principles, Values, & Roles
The Protocol's Features, Components, & Architecture (Ethereum)
How Liquid Collective Compares
Token Mode
The Risks
Slashing Coverage Program
"We believe liquid staking is a natural primitive on top of staking, unlocking liquidity and collateral used for staked positions. However, we understand from speaking to Kiln's institutional customer base that their compliance and security needs are not met in the liquid staking market. We also understand the importance of thriving competition at this layer of the Ethereum ecosystem to promote Ethereum's decentralization. For these reasons, we are thrilled to be bringing Liquid Collective to market."
— Laszlo Szabo, CEO at Kiln