Newsletter 009
Updated resources, new industry advocacy, building innovation with LSTs, and more.
It's hard to believe that we've already reached Q4's midpoint. Liquid Collective's TVL is up over 43% in the last 30d, making it one of the top performing protocols in the market for the $50-$100m TVL range.
Maybe you're looking to update your wardrobe for the changing of seasons. Perhaps you dream of liquid staked ETH, or want to show your support for POSA's landmark staking principles (announced this week) by reminding your friends to use LSTs responsibly.
Whatever your fashion, if you were reading this in your inbox, instead of on the web, there would be a radical discount code for the Liquid Collective store here. Subscribe to recieve monthly Liquid Collective Updates here.
Last, but not least, don't forget: there is no LsETH airdrop. Beware of any accounts sharing any information about LsETH distributions or airdrops. We encourage you to always verify you are interacting with the official Liquid Collective channels, and the official LsETH token.
Stay safe out there, and read on for the latest from Liquid Collective.
Liquid Collective's Latest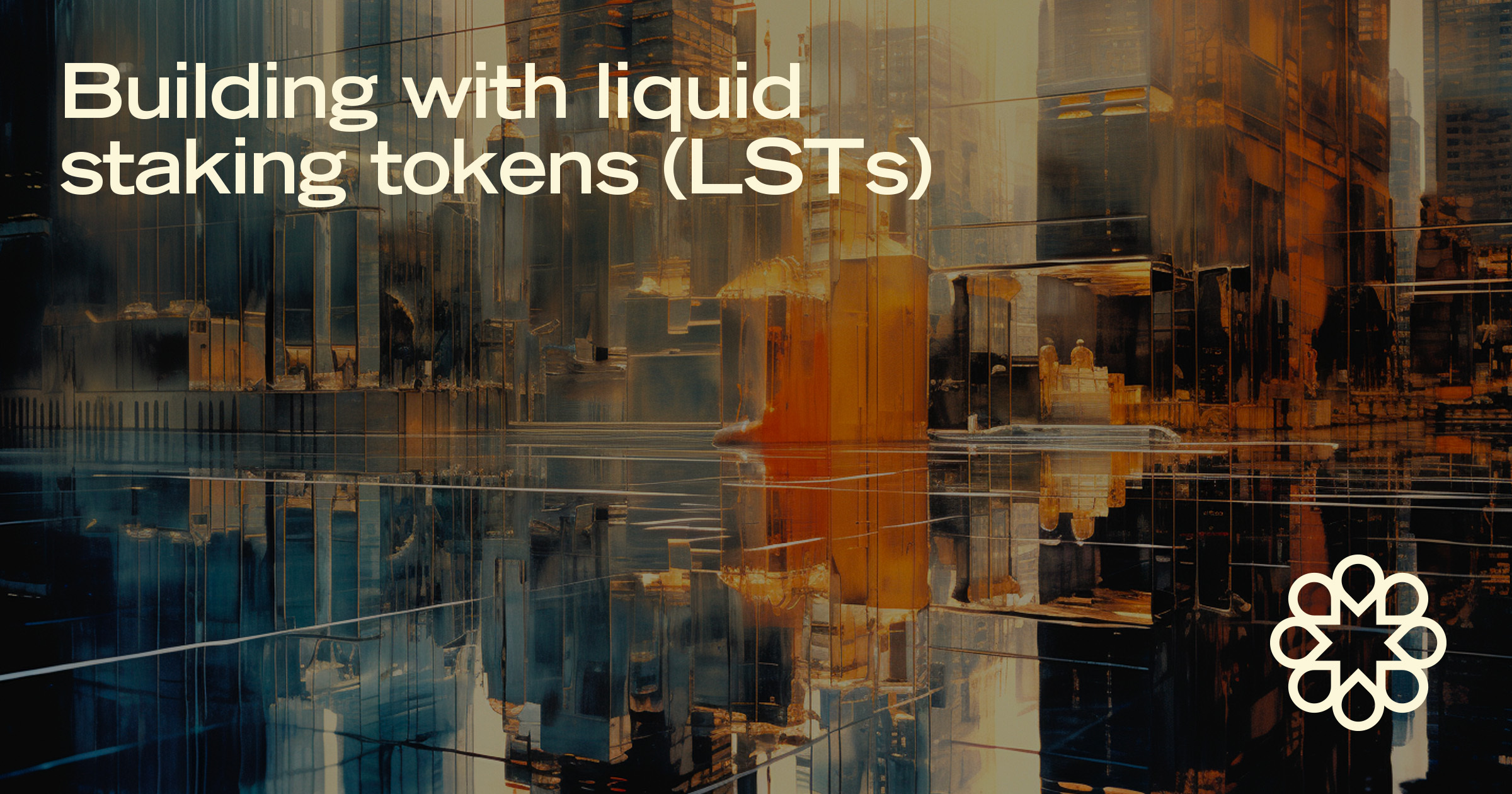 Exploring the DeFi innovations unlocked by composable, reward-bearing LSTs
The total value locked (TVL) in ETH liquid staking tokens has increased by over 100% in the last year alone. While liquid staking tokens (LSTs) are taking the web3 ecosystem by storm, the potential for LSTs is still nascent.
LSTs present a gateway to the development of innovative DeFi strategies and applications, due to a number of key characteristics that make LSTs uniquely situated to build on top of. In our latest post, we define the characteristics of LSTs that make them prime candidates to build with, along with exploring a few of the theoretical innovations and primitives which could be built with LSTs.
Read more in our article, Building with liquid staking tokens (LSTs).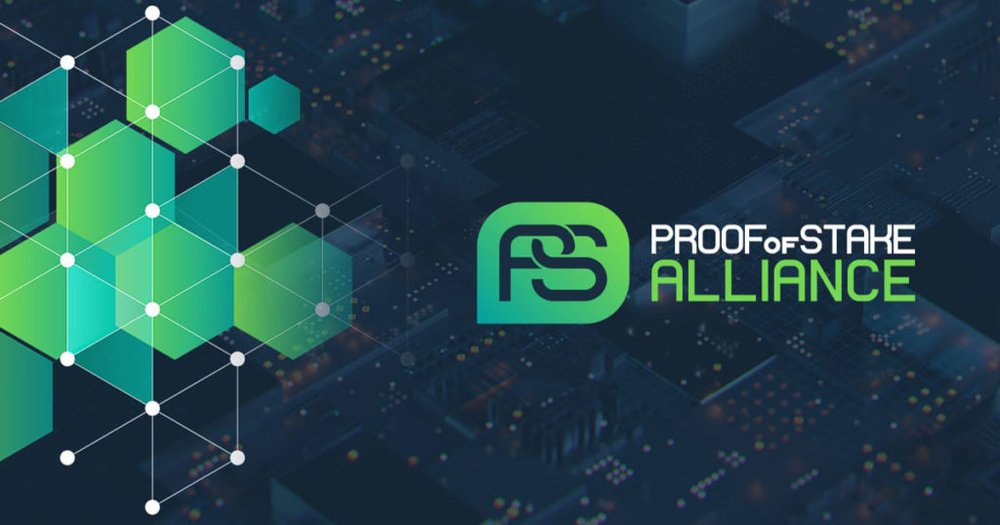 Don't miss: POSA's updated staking principles
This week, the Proof of Stake Alliance (POSA), a nonprofit industry alliance advocating for forward-thinking public policies in PoS ecosystems, announced updated staking principles with support from 18 industry leaders—including Liquid Collective members and supporters Alluvial, Bitcoin Suisse, Blockdaemon, Coinbase, Credibly Neutral, and Figment.
The POSA staking principles aim to "ensure consumer protection and responsible innovation remain paramount as PoS networks and the ecosystems supporting them continue to grow," by providing updated guidelines for service providers and staking protocols.
Learn more about POSA's updated staking principles in CoinDesk's coverage, and read the full staking principles here on POSA's website.
"Amid rapid technological advancement, self-regulation from leaders of the proof of stake ecosystem is essential. The updated POSA principles underscore the ecosystem's commitment to clarity and responsibility, especially in a time of increased scrutiny and misconceptions. Together, we aim to build trust, inform regulations, and champion the boundless potential of the technology."
—Evan Weiss, Founder of POSA and Head of Business & Policy at Alluvial. Source: CoinDesk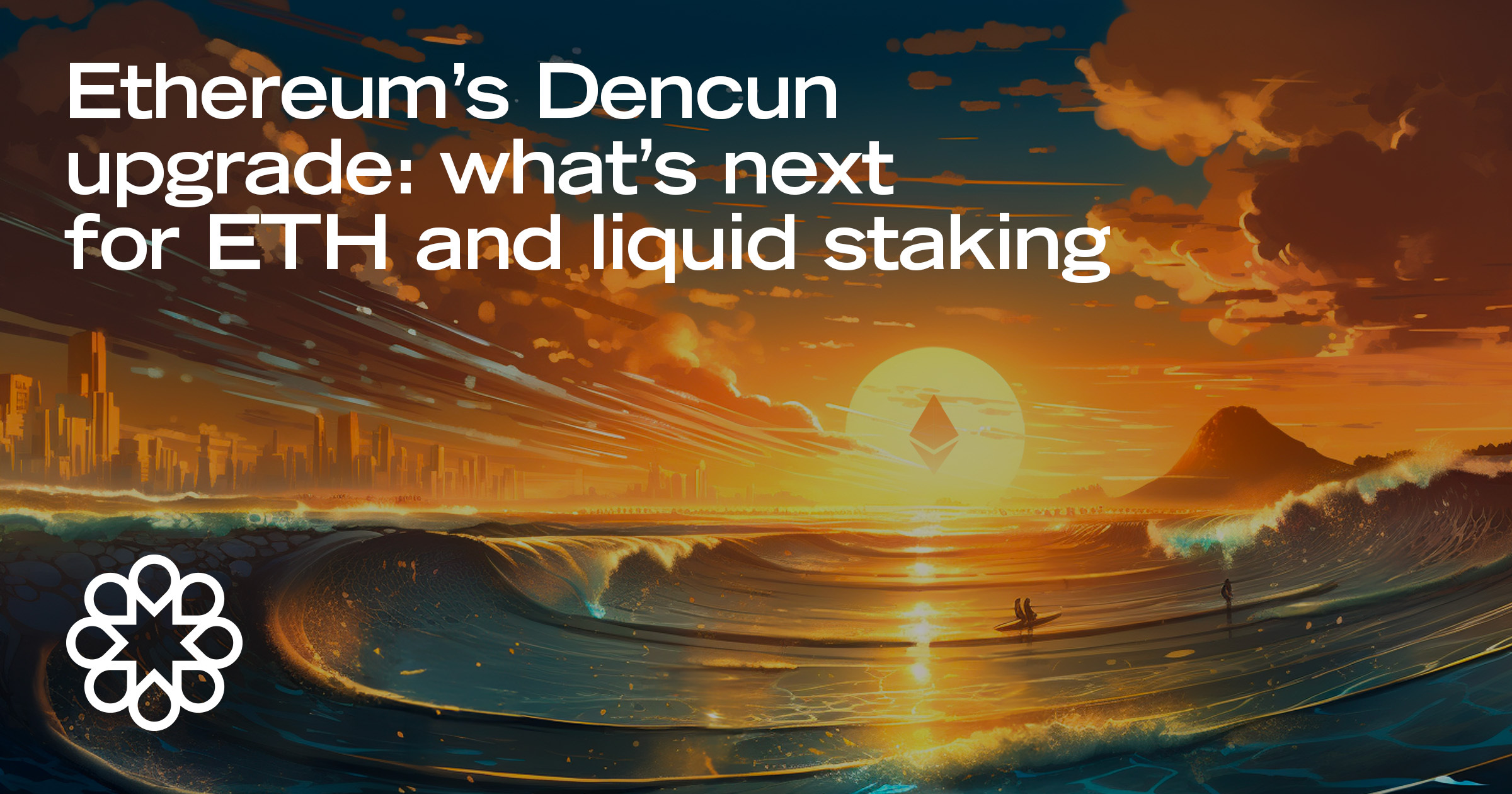 The latest on Dencun & Ethereum's churn limit
What is EIP-7514: Add max epoch churn limit, and what might it mean for liquid staking? Ethereum Improvement Proposal 7514 is a proposal to cap the churn limit for validator activations at 8/epoch, and it's currently expected to be included in Etheruem's Dencun upgrade in Q1 2024.
We've updated our post, "Etheruem's Dencun Upgrade: what's next for ETH and liquid staking," to cover the latest on EIP-7514 along with new Dencun EIPs 7044, 7045, and 7516. We also updated our post, "Ethereum's activation and exit queues," to accurately reflect the post-Shapella landscape for Ethereum validator activations and withdrawals, and to begin exploring how the changes to Ethereum's churn limit with EIP-7514 may affect activation dynamics on Ethereum overall. You can also learn about EIP-7514 in Figment's recent analysis.
Dive into the deep end of ETH staking in our post on the churn limit and activation & exit queues, catch up on the latest for the next network upgrade in our coverage of Dencun, and stay tuned here for more coverage to come on other Ethereum proposals under consideration.
---
Events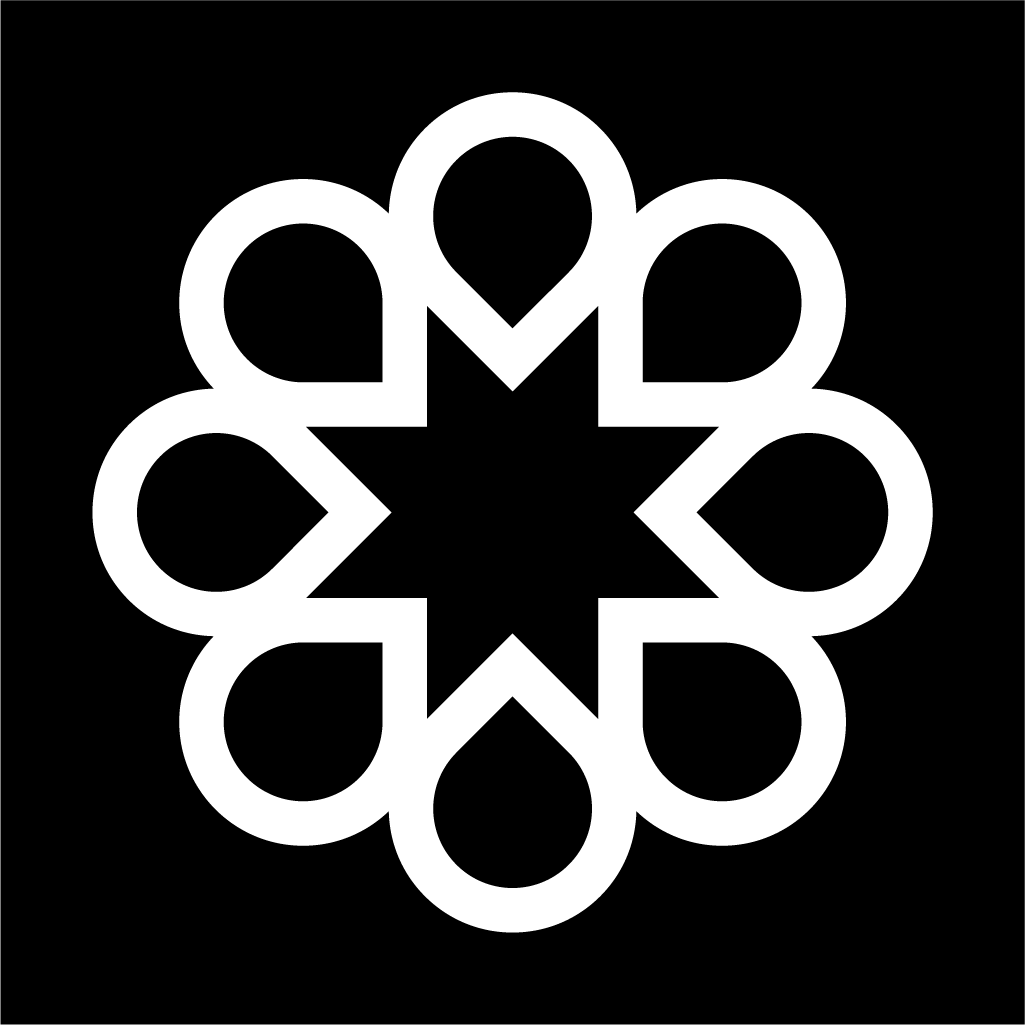 Upcoming Conferences: To connect with the teams supporting Liquid Collective at an upcoming conference, contact us.
---
News from the Collective & Ecosystem Updates
---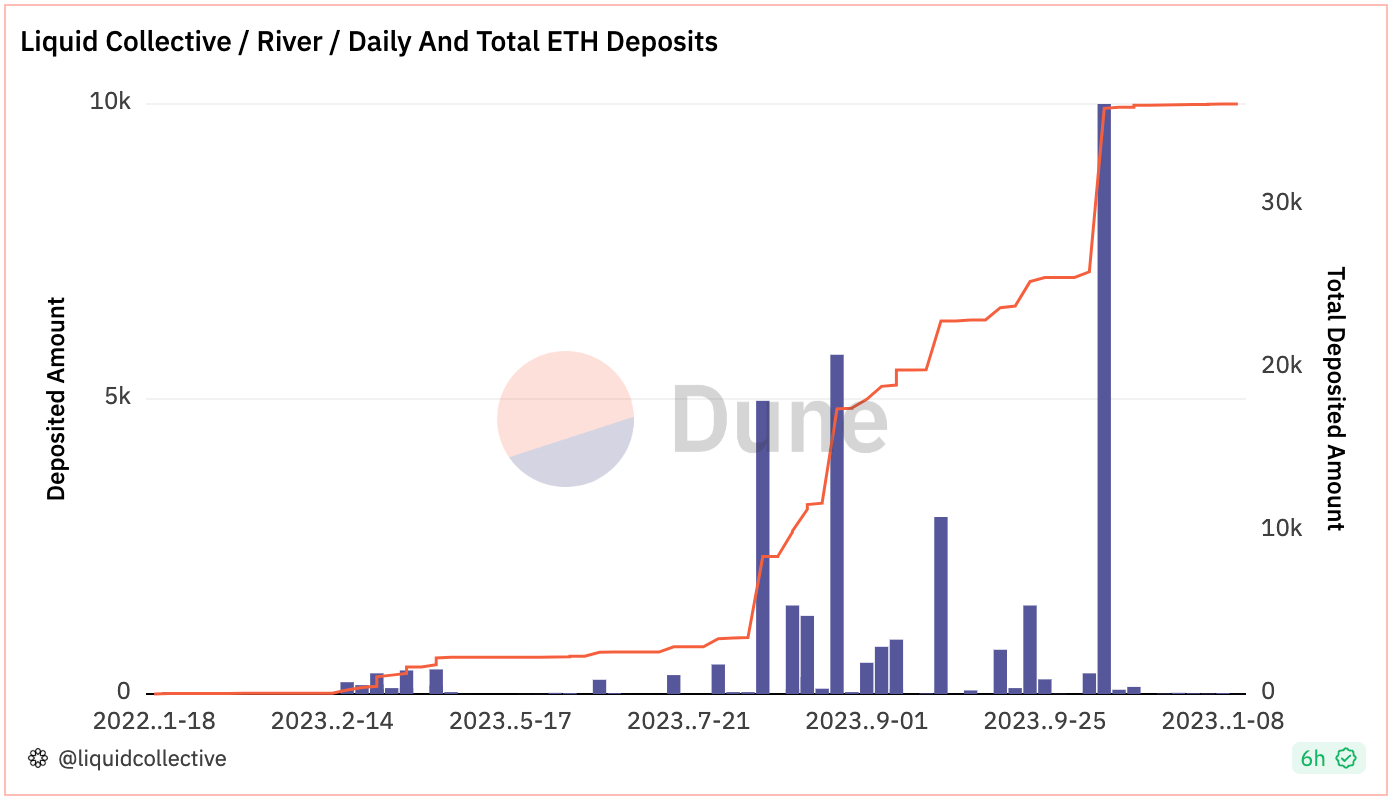 Total Deposited ETH: 36,181.67 ETH

+41.65%

Total Value Locked: $74,585,849

+93.99%

LsETH Conversion Rate: 1 LsETH = 1.0314 ETH

+0.26%

Total Reported Validator Count: 1,137 validators

+41.77%
All data is accurate as of November 10, 2023. View real-time onchain data here on Dune. Percentage changes are from the October 13, 2023 edition of By The Numbers.