Rated Labs x Liquid Collective
Announcing validator performance and security standards
Building a way to objectively evaluate staking providers through a risk-adjusted lens.
Rated Labs, a web3 infrastructure and data startup working on Reputation for Machines, and Liquid Collective, the dispersed community of industry participants building the Liquid Collective liquid staking protocol, are announcing a partnership to develop the Ethereum ecosystem's first open source validator performance and security standards to define industry-wide benchmarks for evaluating staking providers.
Liquid Collective will leverage the completed methodology to natively embed programmatic parameters and service level agreements (SLAs) in the protocol's code, regarding validator attestations, missed rewards policies, validator security, validator onboarding management processes, and more, setting Liquid Collective apart as a pioneering protocol in offering such performance requirements and SLAs for stakers.
The teams have released a roadmap to kick off a coming open source repository for building the framework measuring validator performance and security. Working in a task group led by Rated Labs, and featuring Liquid Collective's industry-leading Node Operators along with Alluvial, a software company supporting Liquid Collective's development, the teams are collaborating to create standardized performance metrics and security methodologies that can be used by those operating in, and building on top of, Ethereum's $40+ billion staking sector.
"Holistic performance and security data related to nodes and their operators is critical in the industry. The business of securing the Ethereum chain is competitive, and it's important for stakers to know that the service provider they stake their digital assets with is actually performing those duties to the best of their abilities. Staking also carries the risk of slashing, or extended underperformance during an incident, and it's currently difficult or impossible to find the information verifying what security protections node operators have in place," said Elias Simos, Co-Founder and CEO at Rated Labs. "We hope that the standards we are working on will gain industry-wide adoption and help propel the industry further forward."
"We're excited to be part of a working group with industry experts to create a more robust framework for validator-related performance and risk standards," said Mara Schmiedt, CEO at Alluvial. "This is a critical first step to advance industry best practices and promote the security and integrity of underlying blockchains."
The staking industry currently lacks important risk-adjusted metrics
Participation in staking is growing rapidly, with the total ETH locked in staking increasing by 22.9% over the last three months since Ethereum's Shapella upgrade. But despite this rapid inflow of capital the proof of stake (PoS) industry still lacks a shared understanding of how to objectively evaluate the performance of, and security risks associated with, the node operators managing these validators.
This shared understanding around how to evaluate validator performance and node operator security has real-world implications—from the long term viability of a service provider's effective network reward rate, to the comparative risk that a node operator may be subject to steep losses due to a slashing incident resulting from their own infrastructure management. Common in traditional finance, this shared metric to evaluate participation through a risk-adjusted lens is critical for PoS' continued growth and maturity.
Rated Labs and Liquid Collective seek to solve this by defining and establishing objective methodologies and metrics for the performance and risks associated with operating Ethereum validator nodes.
Defining key parameters
Liquid Collective's task group will first align on the key parameters that will be used to objectively measure validator performance and security.
Rated Labs' founding team, Elias Simos and Aris Koliopoulos, have unparalleled expertise in data analytics, protocol expertise and technical platform management, operating one of Ethereum's leading validator and network performance platforms.
The Rated Validator Effectiveness Rating (RAVER), one metric under consideration for measuring validator performance, was developed by the Rated team and is already being used by a series of Node Operators to monitor and benchmark their performance to their peers. By focusing on the deterministic aspects of validator performance onchain (i.e. the aspects that are within an operator's control) the RAVER is promising to not only describe accurately the relative "health" of a cluster of validators, but also to signal toward the ability of an operator to collect the maximum rewards available to them over the long term.
The partnership also aims to build robust security management standards that effectively mitigate node operator risks, including:
Correlated failures associated with concentrated deployments on cloud, regional, or client bases
Liveness failures of beacon nodes and validator clients
Key safety compromises at the validator client level
Slashing safety compromise at the validator client level
The risk evaluation methodology has established initial security benchmarking categories with a focus on technology competencies. It will consider the categories of security risks, infrastructure risks, and operational risks. The Liquid Collective task group will work together to collectively identify best practices for node operators based on these benchmarks.
As improved measurement of, and visibility into, node operator security contributes to more secure network validation overall, by working together to define these best practices the teams hope to contribute to the decentralization and security of all PoS blockchains, including Ethereum.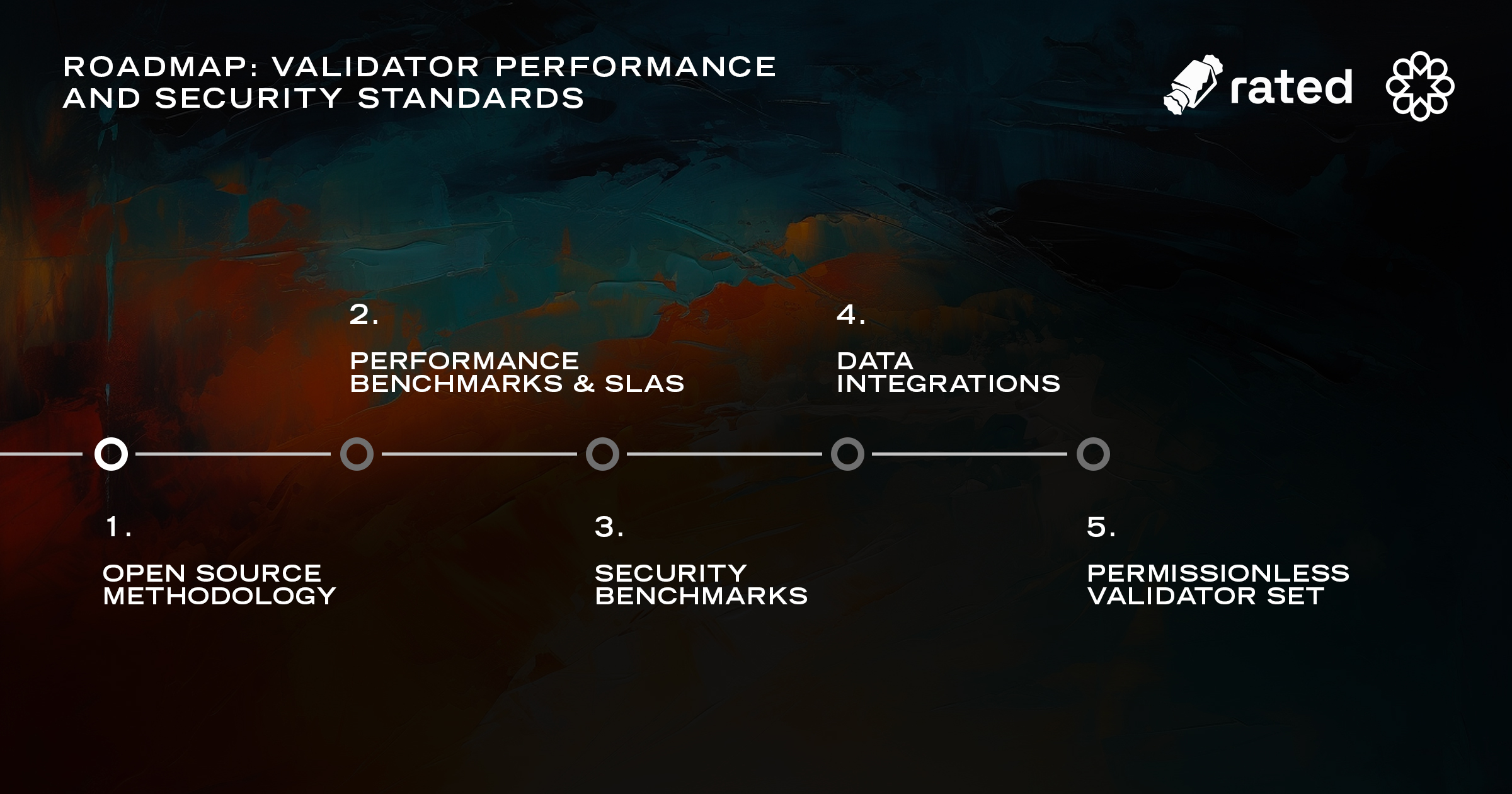 Next, Liquid Collective's roadmap to continue the project's completion covers working collaboratively with Rated and the ecosystem at large to:
1. Open source methodology
Define and open source performance and security methodology
2. Performance benchmarks & SLAs
Define and implement performance benchmarks, SLAs and missed rewards policies
3. Security benchmarks
Define and implement risk evaluation categories, and establish benchmarks for security assessments
4. Data integrations
Build data integration and visualization tools, including a Rated validator performance API and Rated Network dashboard
5. Permissionless validator set
Define the process for onboarding and offboarding Liquid Collective Node Operators based on performance and security measures
Implement a permissionless validator set for Liquid Collective that meets enterprise-grade standards
Looking ahead
Liquid Collective will continue to explore the integration of security-enabling technologies such as distributed validator technology (DVT). This exploration will require leveraging the validator performance and security standards to refine the protocol's Node Operator onboarding strategy in consideration of additional applicable technologies, such as DVT, as well as to educate the protocol's stakeholders about the objective benefits of these technologies.
Liquid Collective will work with the community to gain wide acceptance for these performance and security standards. Our vision is to evolve these standards over time, supporting the ecosystem in collectively evaluating existing and innovative technology stacks and controls to mitigate risks while maintaining enterprise-grade performance.
We hope that this important effort will have an impact far beyond Liquid Collective's stakers. We encourage feedback from the community and hope that this effort will include broad support from those supporting Ethereum's security at large. For more information on how to get involved as the project develops, subscribe to Liquid Collective Updates.